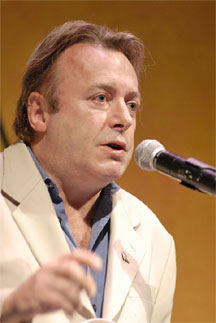 I
previously posted
about the commentary of Peter Hitchens on his atheistic brother,
Christopher
. I've just finished listening to a
3 hour debate
between prominent New Testament scholar [see his new book,
here
],
Mark Roberts
, and Christopher Hitchens moderated by
Hugh Hewitt
. The debate dealt with Hitchens' new book,
God Is Not Great: How Religion Poisons Everything
. I suggest picking up the podcasts, reading Hitchens' book, then review
Dr. Roberts' commentary on the book
.
Not surprisingly, as with
Harris
and
Dawkins
and the rest, Hitchens' hateful attack on all religions and religious people is based on the same old deflated arguments, innuendo, straw-manning, and question-begging. Nothing new.
But I have to say that Hitchens does make is a lot more entertaining that the rest of the lot!